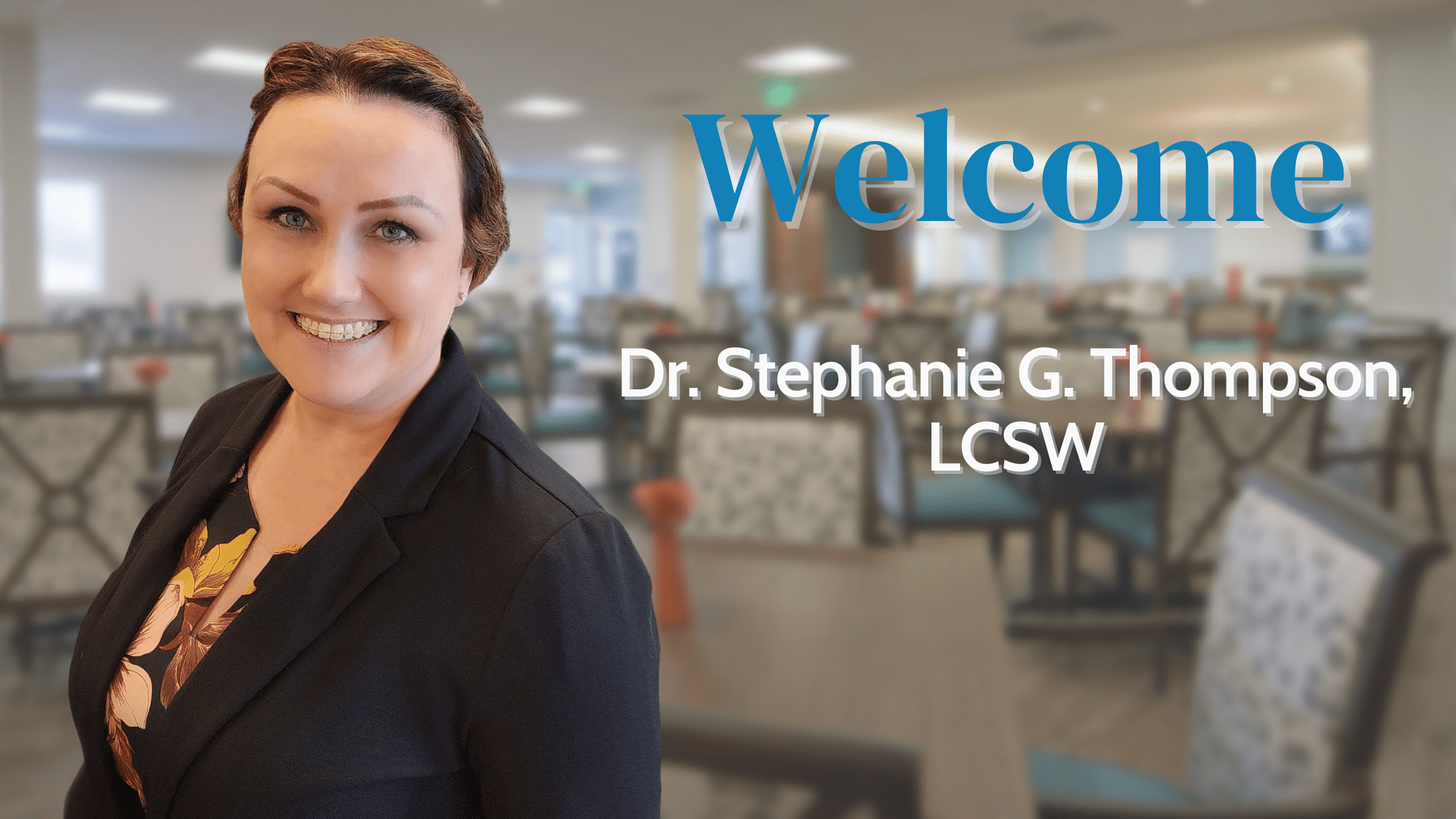 Dr. Stephanie Thompson is the new behavioral health director for Gary and Mary West Program of All-Inclusive Care for the Elderly (PACE), where she will oversee a new program of psychiatry and other geriatric behavioral health services for West PACE participants. The new position was created to streamline behavioral health services for PACE program participants to literally meet them where they are—at West PACE in San Marcos or in the comfort of their homes—instead of working through multiple providers and locations.
"It's important to recognize the signs and symptoms of different mental health conditions occurring in our seniors. The challenges we're seeing most often are loneliness, loss of independence and autonomy, unresolved trauma, and substance use," says Thompson. "These may go unnoticed because certain generations don't talk about their mental health and well-being. It's just something that they've kept private for a very long time."
Thompson started with West PACE in October 2021 as a contracted clinical preceptor and was promoted to behavioral health director in December 2022. She lends a rich professional background of clinical experience to the newly-created position. Thompson hopes to bring better representation to a historically underrepresented group in the area of behavioral health services.
Why behavioral healthcare for seniors is gaining traction and attention
The traditional model of healthcare for seniors has been focused on clinical interventions and acute symptom management. Although this may be adequate for younger individuals, the senior patient is much more complex.
"It's been shown that physical disease may stem from trauma and other behavior health-related issues, and therefore behavioral health interventions are integral for us to treat the whole person," says Rena Smith, executive director, Gary and Mary West PACE. "PACE, as a model of care, brings multiple disciplines together to create a cohesive and comprehensive person-centered care plan with our participants. Including behavioral health in this mix just seems like the right thing to do for our participants," says Smith. "We feel shifting the focus to mental wellness and trauma-informed care will better address our participants' chronic challenges and in turn, yield better outcomes for seniors who are in PACE programs."
"Behavioral health in seniors is important because they have gone through the lifespan. They're at a point in life where they're looking back, and they're either going to look back with pride for their accomplishments or despair for perceived missed opportunities," says Thompson. "It's important that our communities provide services that will allow seniors to have a space where they can go and talk to somebody in private and learn skills to help manage those symptoms."
How can adult family caregivers help seniors receive behavioral health care?
For family caregivers, Thompson recommends trying to get comfortable talking to elderly loved ones about the signs and symptoms they're noticing. Changes in behavior and mood could indicate something deeper is going on.
"I recommend reaching out to your elderly loved one's primary care provider and talking to them about those concerns. Getting involved in an organization like West PACE can provide family caregivers the support they need to avoid burnout and help their loved one stay as independent as possible at home, for as long as possible," Thompson says.
Thompson has a master's degree in Social Work and a doctorate degree in Social Work, Innovation, Leadership and Management from the University of Southern California and currently resides in Oceanside, Calif.
 About Gary and Mary West PACE
Established with a grant from the Gary and Mary West Foundation, West PACE is a program providing all the care and services for older adults and people over age 55 who live in North County San Diego and meet state requirements for nursing home level of care. Those who are Dually Eligible for Medicare and MediCal, or for MediCal only, will not be charged co-payments for services. Others who wish to pay privately may also enroll in the program. To apply or learn more about eligibility, contact Gary and Mary West PACE at (760) 280-2230 or visit their website at www.westpace.org.