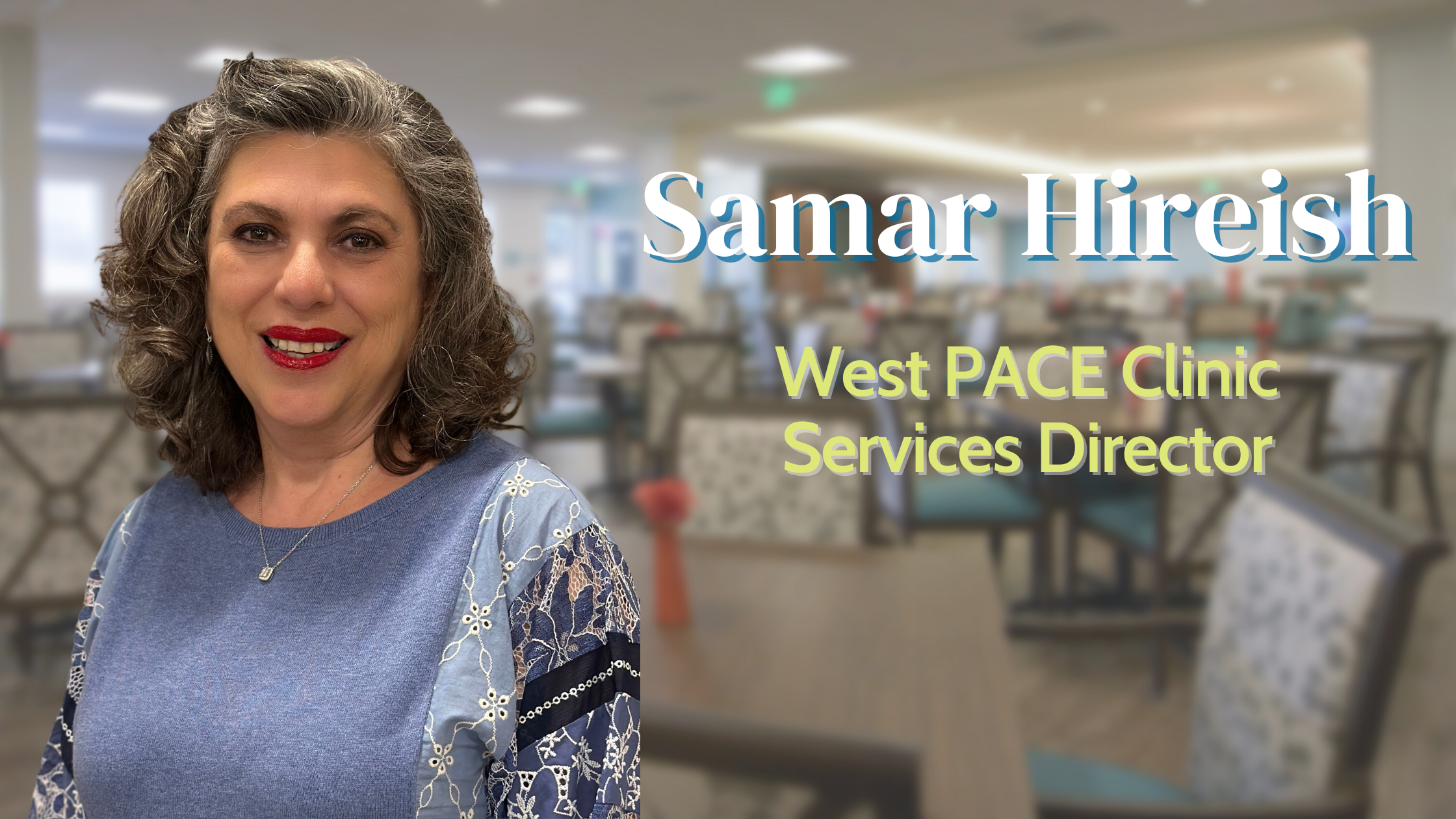 Nursing is a profession known for attracting personalities who go above and beyond to provide exceptional care. Samar Hireish, BSN RN, ACM-RN and Clinic Services Director at Gary and Mary West PACE in San Marcos, CA, is one such nursing professional. 
Recognizing excellence with 'Outstanding PACE Nurse of the Year' nomination
Samar was nominated by the West PACE team for the National PACE Association's (NPA) 2023 'Outstanding PACE Nurse of the Year' award. According to the NPA website, this award "recognizes a nurse employed in a PACE program who embraces and promotes the ideals of PACE, including person-centered care, empowerment of participants and families, and support for the interdisciplinary process; enthusiastically promotes the role of the nurse on the PACE interdisciplinary care team; and contributes significantly to PACE by developing, promoting, and ensuring quality, evidence-based nursing services." Samar's impressive more than three decades of contributions to the nursing profession and to her community highlight the motivations behind this well-deserved nomination.
A lifelong calling to serve and care for others
Samar's journey into nursing began with a profound calling. Inspired by her father's selfless service and ministry, she felt compelled to follow in his footsteps. She knew from a young age that her purpose was to help others, particularly older adults—a population she recognized as having the greatest need for care coordination and services.
Throughout her extensive career, Samar has ventured through various facets of nursing, gaining invaluable experience in different health care settings. She initially worked with pediatric patients in family practice, transitioned to internal medicine with a specialization in HIV, and eventually found her passion in care coordination. Regardless of her role, her focus on case management and care coordination remained unwavering.
Exemplary leadership in challenging situations
Samar's leadership abilities were put to the test during the COVID-19 pandemic. She took on the challenge of becoming an expert on vaccine registration websites and played a crucial role as the primary contact for vaccine orders from the state. Samar established protocols for obtaining consent from seniors and orchestrated vaccine administration at a community vaccine pod hosted by West PACE. Her dedication and coordination efforts led to a remarkable achievement—not a single dose was wasted, with 96% of West PACE participants and 100% of staff receiving vaccinations.
Inspiring and mentoring the next generation
Samar's colleagues describe her as a teacher and mentor who consistently goes the extra mile to ensure her team's success. In every interaction, whether during stand-up meetings or daily work, Samar shares her knowledge and expertise freely, setting an example for others in a fast-paced environment. Her ability to lead by action has made her an invaluable asset to her team.
In 2022, Samar initiated an internship program at West PACE in collaboration with California State University, San Marcos. This program offers aspiring nursing professionals an opportunity to gain hands-on experience in community case management and the innovative PACE care model. Samar's passion for teaching and working with nursing students not only benefits the next generation of health care providers but also raises awareness about PACE within the nursing community and the wider community.
Samar's dedication to nursing, her commitment to providing exceptional care to seniors and her leadership during challenging times have earned her a nomination for the National PACE Association's Outstanding PACE Nurse of the Year award. Her rich nursing career, combined with her passion for education, serves as an inspiration to all health care professionals. Samar embodies the spirit of nursing, where compassion, dedication and a commitment to excellence shine brightly. Her exceptional contributions to the nursing profession were recognized at the National PACE Association annual conference. Congratulations on your nomination, Samar, and thank you for all you do!
Interested in working with West PACE? We're looking for passionate health care providers who want to be part of a team dedicated to enabling seniors to live in their communities as independently as possible by providing compassionate, comprehensive and supportive health care. Check out our current job openings here and follow us on LinkedIn.