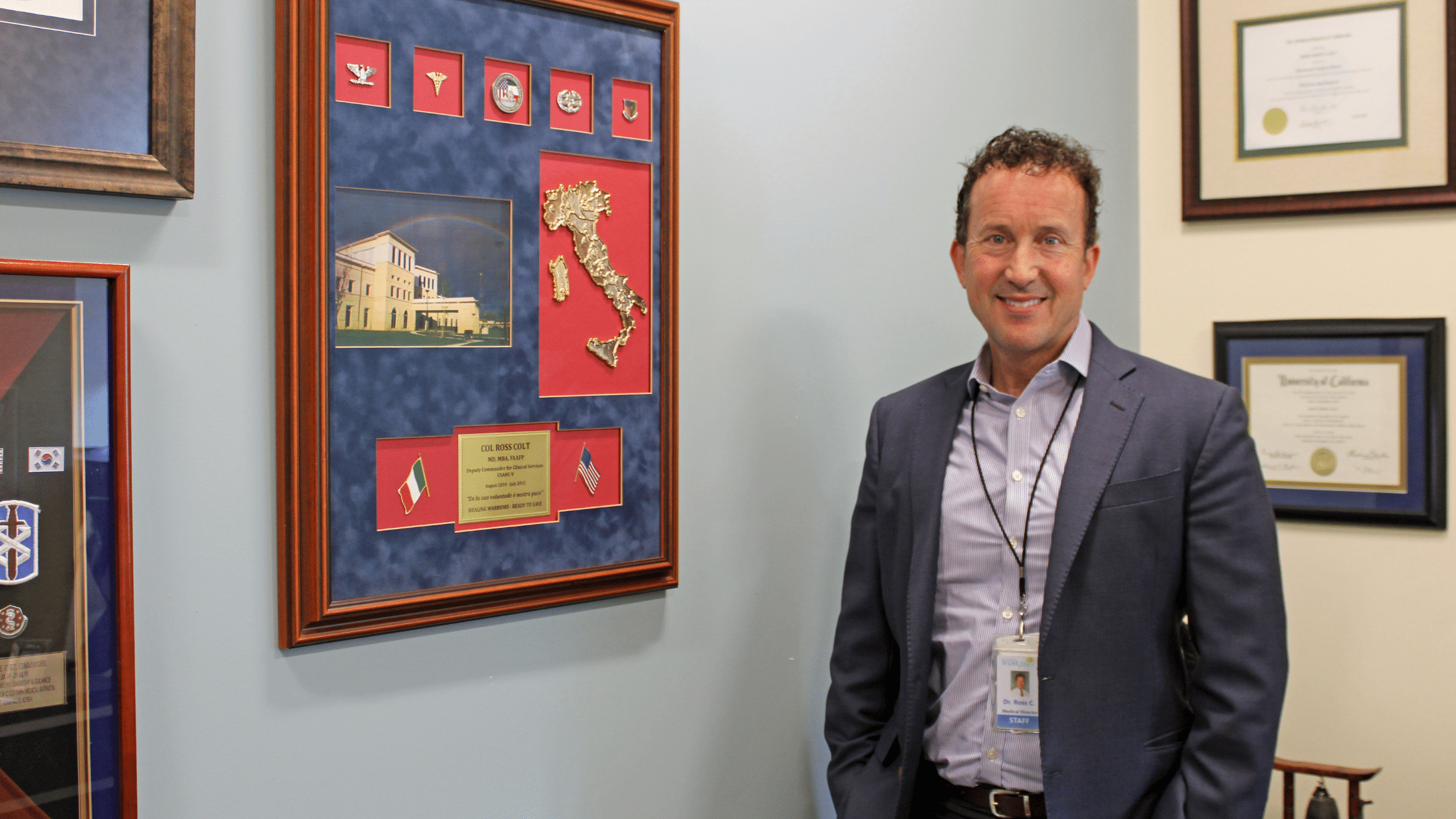 Gary and Mary West PACE Medical Director Dr. Ross Colt recently announced his departure from the organization to a new role with TRICARE, the health care program for uniformed service members, retirees and their families. Dr. Colt will be dearly missed but we are equally thrilled for him to be returning to his passion for serving his country in his new position.
"It's hard to put into words the impact that Dr. Colt has had in his time with Gary and Mary West PACE. He has stewarded West PACE participants and our care team with intentionality, integrity and enthusiasm," said Rena Smith, executive director of West PACE. "While we're sad to see him go, we are grateful for his dedicated service and we are happy that he is returning to serving our country in his new role, a cause that has always been close to his heart. We wish him all the best in this next chapter."
Dr. Colt started as medical director of West PACE in 2018, where he directed holistic care for elderly West PACE participants for nearly five years. He brought with him a background of two decades of full-spectrum clinical practice experience, including a deep background in academic medicine and leadership in managed care environments at the regional and national levels. 
His military service includes 24 years in the U.S. Army as a physician and two tours of duty in Iraq. During his first tour, he slept many nights in a tent or ambulance stretcher and provided trauma care to soldiers who had experienced everything from grave injuries after IED explosions to acute appendicitis. 
As medical director of West PACE, Dr. Colt drew from his military background to help his team continually provide participants with the holistic care they deserve. His experiences overseas taught him to think quickly on his feet, pivot easily and provided him the mental tools to use in the most complex, stressful civilian medical situations—the types that often arise when coordinating care for senior patients with multiple medical issues and few family and financial resources.
Dedicated to sharing best practices in geriatric medicine, Dr. Colt represented West PACE presenting at national industry conferences including the American Society on Aging, the American Geriatric Society and the National PACE Association on topics including acute care at home, telemedicine and virtual care of seniors. As a PACE thought leader and ambassador, he also participated in media interviews and speaking panels. He also published commentaries to educate others on the benefits of PACE. 
West PACE health care services will not be interrupted as a result of Dr. Colt's departure. Dr. Neha Sampath, a physician at West PACE who trained under Dr. Colt over the past year, assumed the role of acting medical director in July 2023. The West PACE team is recruiting a physician to backfill Dr. Sampath's position.
Dr. Sampath is an accomplished care provider and PACE proponent with more than a decade of clinical and hospital care experience. She is well-acquainted with West PACE participants, and we are confident they are in excellent hands under her care.
"I am so grateful to Dr. Colt for his mentorship," said Dr. Sampath. "Working alongside him over the past year and having his guidance prepared me to step into this role seamlessly. I'm enjoying being more deeply involved in the care of our participants."
On behalf of the entire team at West PACE, we extend sincere gratitude to Dr. Colt for his wonderful impact on North County seniors and their families through Gary and Mary West PACE. Thank you, Dr. Colt!
If you or a loved one is 55 or older, lives in North County San Diego, and meets state requirements for nursing home level of care, contact West PACE today to see if enrolling in our program is right for you. Call (760) 280-2230 or email us today.