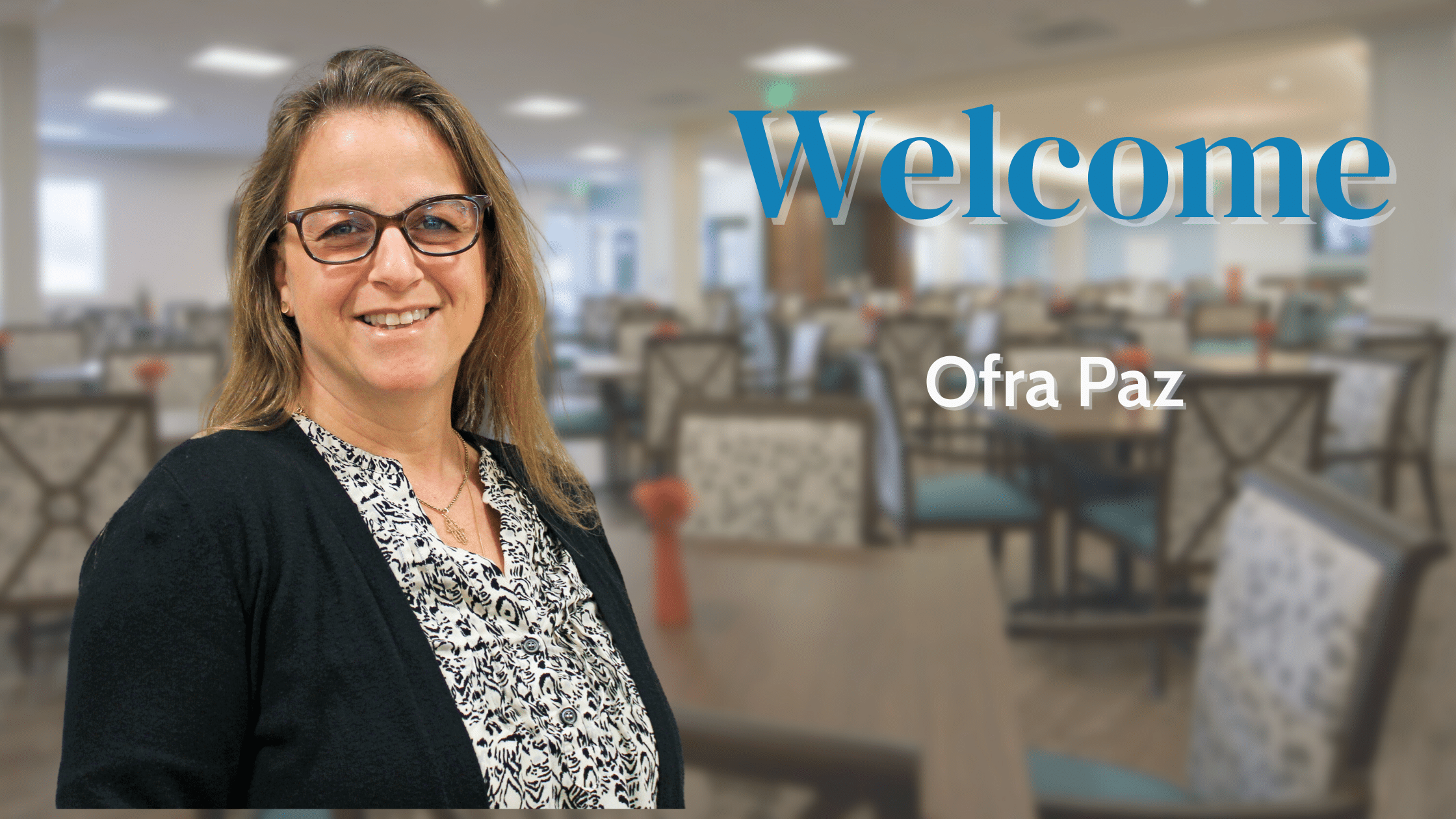 Gary and Mary West PACE has named Ofra Paz as their new Strategic Development Director, which is a newly created position. Paz brings with her a passion for developing and managing quality and innovative programs coupled with a degree in social work. Paz has devoted her entire professional career—spanning over two decades—to helping people, from serving as a rape crisis center counselor, to founding a nonprofit organization benefiting marginalized communities, to leading a nonprofit supporting older adults and their family caregivers.
Paz's inspiration to work with older adults stems from a strong connection she feels to the demographic and her curiosity to know their stories and life experiences. "I know there is so much we could do better as a society in serving our elders," Paz says. "I am inspired every day to continue and improve the care we provide to seniors living in our community."
As the strategic development director for West PACE, Paz will work to identify growth opportunities for West PACE through the creation of new partnerships and strengthening existing ones, identifying new business opportunities, and working on qualitative growth initiatives with the organization's leadership and staff.
"West PACE is an innovative and dynamic organization, which is something that really excites me," says Paz. "I'm a social entrepreneur, and the opportunity to build innovative programs and improve people's lives is a huge motivation for me. An organization that is not afraid to learn and improve constantly, like West PACE, is the right place for innovation to happen, and I'm happy to be part of this organization."
West PACE provides person-centered care for seniors, peace of mind for family caregivers
The nonprofit West PACE is an innovative nationwide model of person-centered care designed to improve the lives of seniors, particularly those who are low-income and lack extensive caregiving and health care resources. At its core, the PACE health care model is about keeping seniors living at home in their communities, safely. Over 90 percent of PACE participants are able to successfully remain in their homes and communities, many live longer, are more socially engaged and have a better quality of life than those in nursing homes or other institutional settings. The PACE model also reduces ER visits and hospital admissions among seniors. PACE programs can bring relief to adult children, as 1 in 5 U.S. adults are family caregivers for an elderly, ill or disabled relative.
"Older adults face many challenges today, especially around timely and easy access to community-based health and social care," says Paz. "Many are extremely isolated, and on top of growing health issues and social isolation, they face financial hardships as well, including lack of ability to pay for basic needs like food, medication, transportation and utilities, and they risk losing their homes due to increased housing costs. When combined, these factors require a much more comprehensive and holistic approach to senior care, and PACE is a great example of a model that is set to deal with these problems in a well-integrated approach."
PACE programs aim to meet participants where they are. There is an interdisciplinary team that works with each participant on a personalized care plan. They monitor their progress, ensuring they receive the right care components to meet any challenges that arise. In addition to medical care services, West PACE also provides meals and transportation, nutritional counseling and social services.
"My goal is to work on the development of a strategic roadmap with leadership that will help guide us towards meaningful and sustainable growth of our program, both in the number of people we serve and in the quality of services we provide," says Paz. "West PACE is also forming partnerships with housing providers, to expand the availability of affordable housing solutions for older adults living in North County San Diego with complex health and social care needs."
Dedicated to sharing her knowledge, Paz has presented at the national level at multiple conferences including the National Association of Adult Day Services Conference, USAging Conference and the American Society on Aging Conference.
Paz holds a bachelor's degree in social work from the University of Haifa in Haifa, Israel, and currently resides in San Francisco, Calif.
About Gary and Mary West PACE
Established with a grant from the Gary and Mary West Foundation, West PACE is a program providing all the care and services for older adults and people over age 55 who live in North County San Diego and meet state requirements for nursing home level of care. Those who are Dually Eligible for Medicare and MediCal, or for MediCal only, will not be charged co-payments for services. Others who wish to pay privately may also enroll in the program. To apply or learn more about eligibility, contact Gary and Mary West PACE at (760) 280-2230 or visit their website at www.westpace.org.