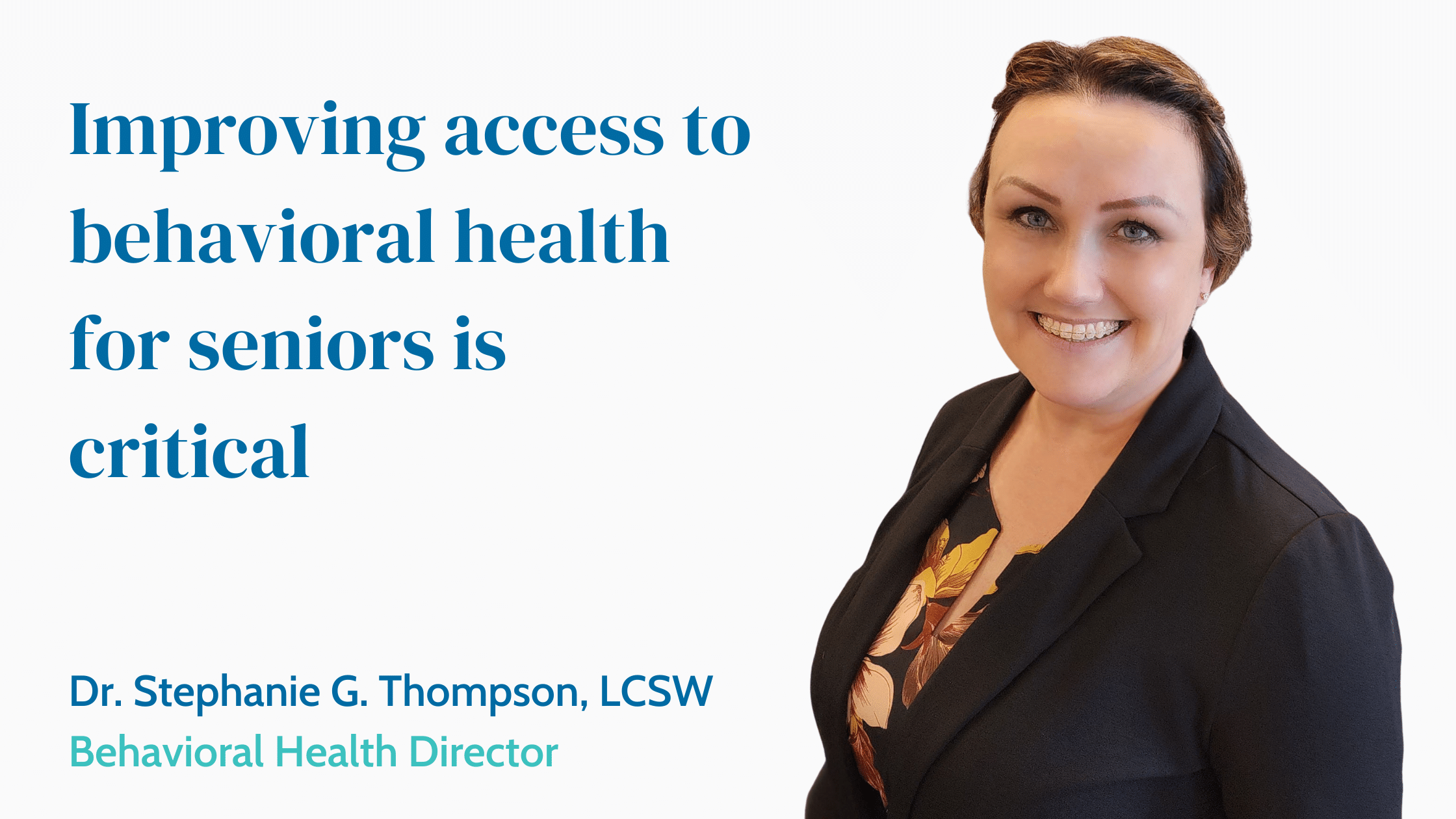 Gary and Mary West PACE welcomes Dr. Stephanie Thompson, LCSW as the new behavioral health director, where she will oversee a new program of psychiatry and other geriatric behavioral health services for West PACE participants at their San Marcos senior center. The purpose of creating Dr. Thompson's position was to expand the behavioral health services for PACE program participants by meeting them exactly where they are – whether they are visiting our West PACE day center in San Marcos or through PACE at home. This new approach eliminates the need to deal with various providers and locations.
The Role of Social Workers and Seniors
Many are unaware that there are dedicated social workers in San Diego County who assist older adults in accessing the health care necessary for various types of recovery. These professionals don't just address physical or mobility conditions; they also work to provide access to programs that manage behavioral health concerns and alleviate issues related to other quality-of-life challenges that seniors may face.
It's imperative to underscore that mental health difficulties are an inherent part of the aging process. More than 20% of individuals aged 55 and above encounter a mental health issue, which can lead to additional health inequalities and a decline in their overall well-being.
The team at the nonprofit Gary and Mary West PACE in San Marcos recognizes that physical illness can stem from trauma and other behavioral health-related issues. Therefore, behavioral health interventions are an integral part of treatment. By shifting the focus to mental wellness and trauma-informed care, we can better address the chronic medical challenges faced by PACE participants and achieve better outcomes for seniors. This will allow seniors to remain independent and safe in their own homes and reduce their dependency on hospital emergency departments.
"It's important to recognize the signs and symptoms of different mental health conditions occurring in our seniors. The challenges we're seeing most often are loneliness, loss of independence and autonomy, unresolved trauma, and substance use," says Thompson. "These may go unnoticed because certain generations don't talk about their mental health and well-being. It's something that they've kept private for a very long time."
What are the signs of behavioral change to watch for in seniors?
One of the questions our senior-focused social workers are asked is "How do I know if the senior I care for needs mental health services?" Here are some signs to look for: 
Changes in mood.

Caregivers need to be aware of changes in mood. This is a prevalent indication of behavioral health issues among older adults. Such changes may manifest as persistent feelings of sadness, hopelessness, anxiety, or irritability that hinder their daily activities.

Cognitive changes.

Behavioral changes in seniors may also be due to cognitive impairments, such as memory loss, confusion, or disorientation. They may have difficulty with decision-making, reasoning, or problem-solving and may also experience delusions or hallucinations.

Social withdrawal.

Seniors may experience social withdrawal due to behavioral health challenges, leading them to lose interest in activities they once found enjoyable, refrain from socializing with loved ones, or become increasingly isolated.

Sleep disturbances.

Seniors with behavioral health challenges often experience sleep disturbances, such as insomnia, frequent awakenings during the night, or daytime sleepiness. These sleep disruptions can contribute to or intensify other behavioral health issues and complicate physical well-being.

Changes in appetite.

This is a common symptom in seniors with behavioral health challenges. These changes may manifest as loss of appetite, overeating, or sudden weight loss or gain. They can be related to other physical health issues or be indicative of depression or anxiety.
Shifting the focus to mental wellness and trauma-informed care addresses participants' chronic medical challenges, which in turn yields better outcomes for seniors in PACE programs. This improves their ability to remain independent and safe in their own homes and decrease dependency on hospital emergency departments.
We are thrilled to have Dr. Thompson join us at West PACE. We are confident that her team's efforts will greatly enhance the mental health and well-being of our senior participants. With her demonstrated expertise and unwavering dedication to North County San Diego seniors, we have no doubt Dr. Thompson and our Social Work team will continue to make a significant difference to improve their mental health and well-being.
If you are interested in learning more about behavioral health services for seniors, please contact us at (760) 280-2230 or contact us today.