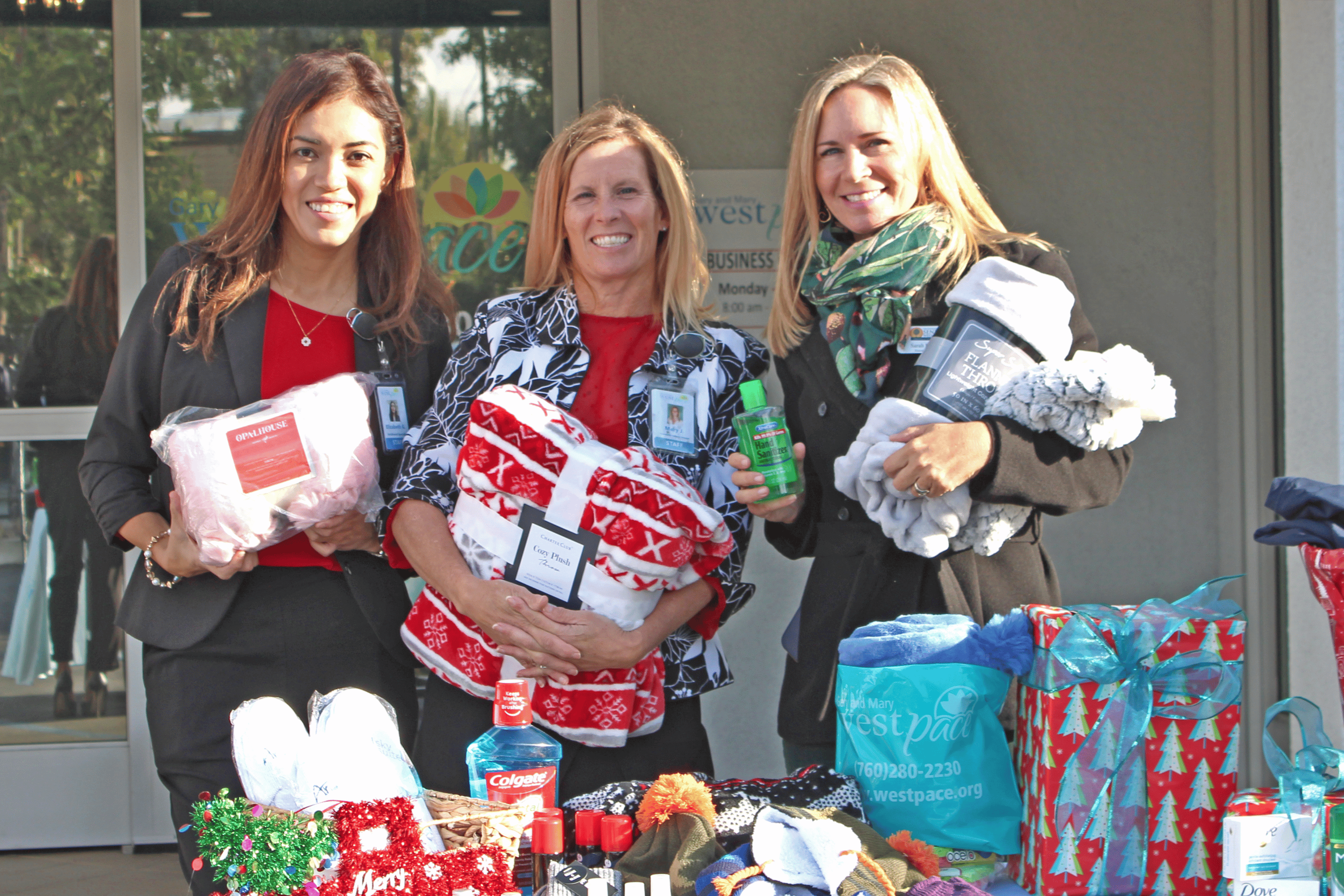 Beginning Nov. 17, the nonprofit Gary and Mary West PACE will host its annual holiday collection campaign called "Everyday Necessities Drive for North San Diego County Seniors." This year, organizers are asking San Diego County businesses, community groups, and individuals to donate new and unused blankets to the drive and for financial donations to the West PACE Community Care Fund to support vulnerable seniors in North San Diego County.
How the community can help
The organization's goal is to collect 350 new blankets that will be gifted to North San Diego County seniors with chronic care needs who rely on West PACE and community partners for high-quality, comprehensive, coordinated health care and social services that help them successfully age in place rather than in a nursing home. Organizers also hope to receive $5,000 in financial donations to the West PACE Community Care Fund to purchase items like clothing, bed linens, mattresses, pet supplies and food, kitchen utensils, small furniture items, transportation subsidies, and other meaningful and intentional gifts. These items are carefully selected based on the needs observed by trained social workers and health care professionals who have built trusting relationships with seniors receiving support and services from West PACE and other organizations.
"We are asking for blanket donations this year because we field those requests so often. Last year, our community came through and made the drive very successful, so we hope to hit our goal of 350 blankets out of the park to keep even more vulnerable seniors warm during the chillier months in our region," says Rena Smith, executive director, West PACE. "Financial donations to the Community Care Fund will support the extraordinary needs of seniors throughout the holiday season and the year ahead, which are heightened due to inflation and higher prices for everyday necessities."
Blanket donations can be dropped off at the West PACE center, located at 1706 Descanso Avenue in San Marcos starting Nov. 17, 2022 during normal business hours, Monday through Friday, 8 a.m. and 4:30 p.m., through Dec. 15. The organization has also created an Amazon Wish List with recommended blanket selections for community members who want to donate but cannot deliver in person.
Giving Tuesday in San Diego County: West PACE to host holiday drop-off events
Two holiday drop-off collection events for the "Everyday Necessities Drive for North San Diego County Seniors" will be held on Giving Tuesday, Nov. 29, 2022, to encourage the community to donate; the first is from 7:30 a.m. to 10 a.m., and the second is from 3 p.m. to 5 p.m. at the Gary and Mary West PACE day center in San Marcos. Giving Tuesday is known as the "global day of giving" that follows Thanksgiving, Black Friday and Cyber Monday. Community members and partners who drop off their donations on Giving Tuesday will receive a sweet holiday treat in appreciation.
Community partners and collection sites needed
The following North San Diego County businesses and groups are supporting this year's effort: Bryan Devore – Devore Realty Group / Berkshire Hathaway in Carlsbad; Edward Jones in Escondido; Care Choice in San Marcos; Best of Care in Carlsbad; J&J Realty in Carlsbad; and West Health. It's not too late for local companies, individuals, and groups are needed to support the third annual "Everyday Necessities Drive for North San Diego County Seniors" hosted by West PACE. If you would like to become a partner or learn more, please reach out to Mary Jurgensen, community engagement director, at (760) 280-2236. Partners will receive recognition and the team at West PACE will also pick up donations collected at their sites. 
Staying warm in winter months is a concern for vulnerable seniors
West PACE has supported several program participants with donations of blankets and other supplies. One example is the story of a West PACE participant who lived in a rural North San Diego County area without access to running water in a home with several broken windows and limited electricity. When the participant developed pneumonia during a hospitalization, the West PACE team grew concerned about his health and safety when he returned home. Donation funds were used to purchase warm jackets, a mattress and bedding, including several blankets, to help keep him warm and comfortable.
Blankets donated through the "Everyday Necessities Drive for North San Diego County Seniors" hosted by West PACE will be distributed to senior recipients from mid-December through January 2023.
What is PACE and why is it important? How does PACE help seniors?
Program of All-inclusive Care for the Elderly, or PACE, is a model of person-centered care that has been shown to reduce rates of emergency room visits, unnecessary hospital admissions, long-term nursing home placements, and reduce the cost of care and the strain on family caregivers. Over 90 percent of PACE participants are able to successfully remain in their homes and communities, many live longer, are more socially engaged and have a better quality of life than those in nursing homes or other institutional settings.
West PACE provides a wide range of services including adult day programs, medical care, social services, dentistry, home care and physical, occupational and speech therapy. Transportation to and from the center and outside medical appointments is provided, as well as social activities, meals, pharmacy, long-term services and supports, and caregiver training and support groups. All services are managed by an interdisciplinary care team to ensure the coordination of care and clear communication with participants and their families.
Medicare and Medi-Cal reimburse PACE for care. If participants are enrolled in Medicare and Medi-Cal, they will pay nothing, or they will pay their Medi-Cal "share of cost." The program also accepts people enrolled only in Medi-Cal and people who want to pay privately. There are thousands of seniors in the area that may be eligible for enrollment in West PACE. Additionally, the asset limit for Medi-Cal programs for people aged 65 and older increased in July 2022, so if you have applied before and been denied, consider reapplying. To apply or learn more about eligibility, contact West PACE at (760) 280-2230.
About Gary and Mary West PACE 
Established with a grant from the Gary and Mary West Foundation, West PACE is a program providing all the care and services for older adults and people over age 55 who live in North San Diego County and meet state requirements for nursing home level of care. Those who are Dually Eligible for Medicare and MediCal, or for MediCal only, will not be charged co-payments for services. Others who wish to pay privately may also enroll in the program. To apply or learn more about eligibility, contact Gary and Mary West PACE at (760) 280-2230 or visit their website at www.westpace.org.