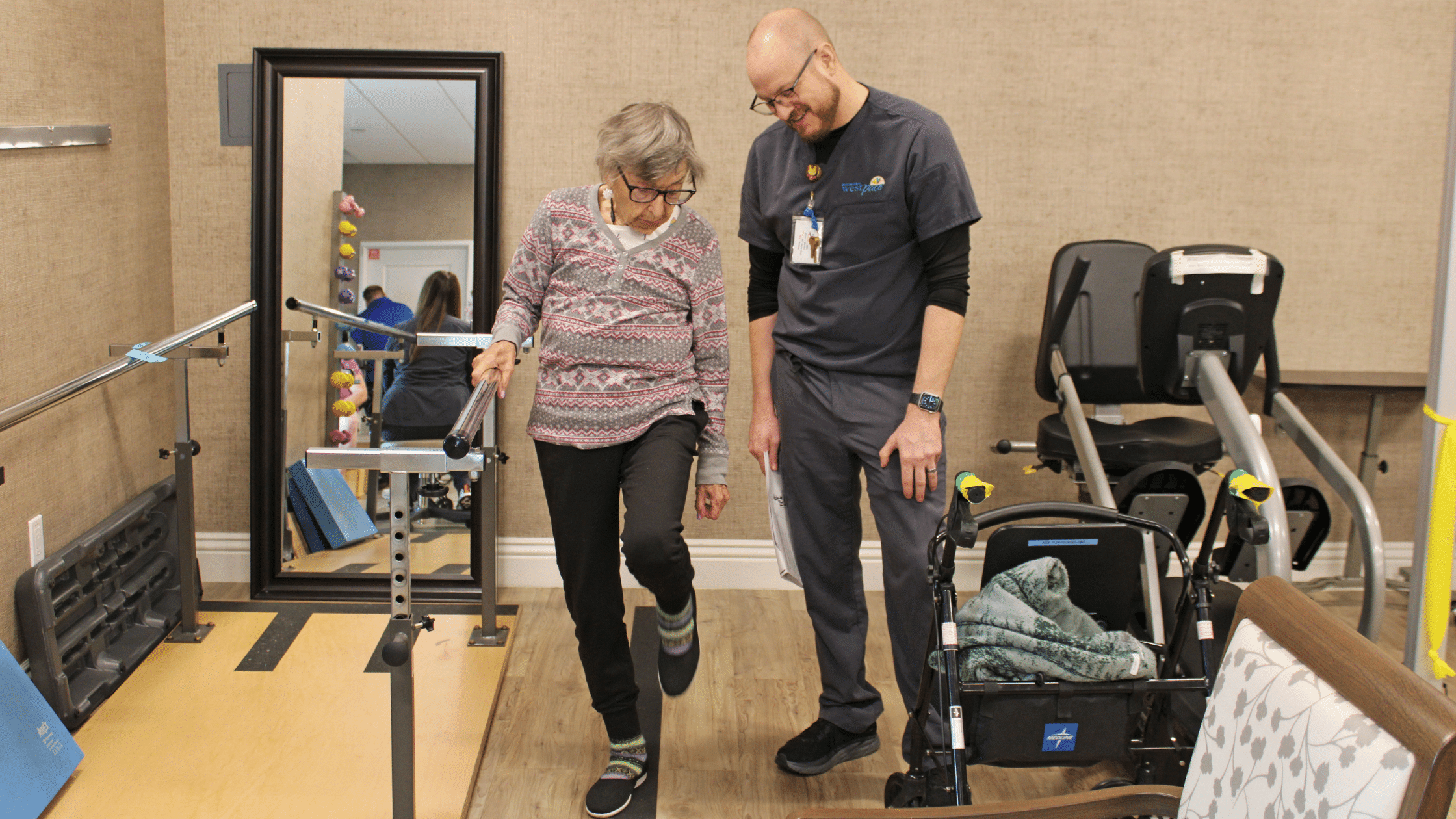 Falls can have serious consequences, impacting physical health, emotional well-being, and even independence. The Centers for Disease Control and Prevention (CDC) estimates more than a quarter of adults age 65 and older fall each year.
Thankfully, many falls are preventable. September is Fall Prevention Month—a great time to assess, mitigate and reduce fall risk factors. By promoting awareness and taking proactive steps, we can help prevent these accidents and preserve the well-being of our loved ones.
4 Tips for Fall Prevention
1. Speak up: Talk with your health care provider about your health, medications and risk of falling.
Maintain an up-to-date medication list with prescription and over-the-counter medications, supplements, drops and herbal products
2. Keep moving: Engage in activities that improve balance and strength.
Physical activity recommendations for older adults (build up to these recommendations over time, if needed):

150 minutes a week of moderate-intensity activity (example: brisk walking) or 75 minutes of vigorous-intensity activity (example: running)
Activities that strengthen muscles at least 2 days a week
Activities to improve balance about 3 days a week (example: standing on one foot)

Shoes with minimal heels and firm, slip-resistant soles (such as flat loafers) are ideal to wear inside and outside of the home
3. Check your eyes: Get a dilated eye exam every year.
Update your glasses, if needed
People age 60 and over should also have a hearing screening on an annual basis
4. Make your home safer: Identify and remove fall hazards in and around your home.
Remove clutter, secure rugs and carpets to the floor, fix loose handrails, install lighting in dimly lit areas, install grab bars in the tub or shower
Get assistive devices like a cane or walker fitted by a physical therapist or another health professional
Gary and Mary West PACE takes fall prevention among our program participants seriously. Just ask West PACE enrollment team members Nancy Sherman and Elizabeth Gallaga, who recently completed specialized fall prevention training from the County of San Diego Health and Human Services Agency. This training, which Nancy and Elizabeth elected to do, enabled them to join the agency's Fall Prevention Task Force, which meets regularly to collaborate on initiatives, resources, awareness campaigns and programs that advance its mission of reducing falls for San Diego County residents. The task force also hosts a Speakers Bureau and Balance Screeners Bureau to provide free presentations and fall risk assessments, which Nancy and Elizabeth are now certified to conduct, at no cost to community groups.
"It's been great getting to share resources and ideas with others on the Task Force who have the same goal of preserving the safety and well-being of older adults," says Nancy. "There are many simple things we can do to dramatically reduce fall risk for seniors, and we're passionate about spreading the word."
"At West PACE, we offer senior physical therapy activities to participants each week in our day center," explains Elizabeth. "Activities like yoga, stretching and chair tai chi—even just once a week—can do a lot to help with balance and reduce fall risk."
September is also National PACE Month—a time when awareness of the benefits of Programs of All-Inclusive Care for the Elderly (or PACE, for short) is shared nationwide. We participate in this campaign so more seniors who qualify for PACE know about the valuable opportunity they have through the program to age successfully "in place" in the comfort of their homes.
If you or a loved one is 55 or older, lives in North County San Diego, and meets state requirements for nursing home level of care, contact West PACE to see if enrolling in our program is right for you. Call 760-280-2230 or email us today.
These tips were adapted from a presentation by the County of San Diego Health and Human Services Agency's Fall Prevention Task Force.