Beginning Giving Tuesday, November 30, 2021, West PACE will host our second-annual "Everyday Necessities Drive for North County Seniors." The public can participate in TWO ways.
Our team is collecting hundreds of items to create 200 holiday bundles which will be gifted to vulnerable North San Diego County seniors with chronic care needs who rely on West PACE and our community partners for high-quality, comprehensive, and coordinated health care, social services which help them successfully age in place rather than in a nursing home. We encourage local businesses, community groups, and individuals to donate new and unused warm clothing accessories such as scarves, mittens, gloves, socks (grip resistant); fleece blankets; lip balm; hand soap; men's undershirts; and toothpaste and toothbrushes to be assembled into holiday gift packages and new year bundles.
We're introducing a new element called "Adopt-A-Senior." West PACE and its community partners will identify 15-20 homebound seniors with extraordinary needs. The monetary donations are collected through a GoFundMe page and will be used to fulfill the needs of the select seniors who live in the communities of San Marcos, Vista, Escondido, Ramona, Oceanside, Carlsbad, and other adjacent areas. At the end of the campaign, West PACE and community partners will use the funds to purchase the items on the seniors' wish list, as well as supplement the holiday bundles.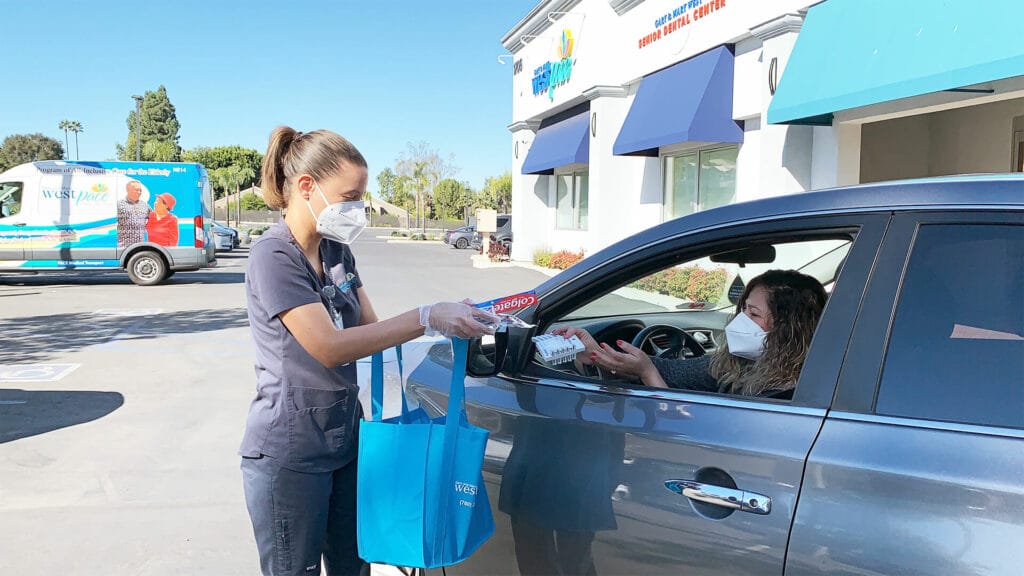 Local companies, individuals, and groups have already come on board to support the second-annual "Everyday Necessities Drive for North County Seniors" hosted by West PACE. They include Bryan Devore of Devore Realty Group, Foundation for Senior Care, Foundation for Senior Wellbeing, Qualicare, Rachel Currington, San Diego North Economic Development Council, Uni Care Hospice, Wakeland – The Grove, and West Health.
Drop-Off Information Items can be dropped off at our West PACE center, located at 1706 Descanso Avenue in San Marcos during normal business hours, Monday through Friday, 8 a.m. and 4:30 p.m., through Dec. 18, 2021. We are also hosting a drive-up collection event at West PACE on Friday, Dec. 10 from 7:30 a.m. to 10 a.m. All donors who drive-in to drop-off items at West PACE will receive a coffee and a holiday treat.
Help us reach more neighbors in our community and encourage their participation to help seniors in our community.
Download our flyer with our complete wish list here. Click this link to go directly to our GoFundMe page. Please share with your friends and neighbors! If you have questions or would like to arrange a community drive to support this effort, please contact Mary Jurgensen, Community Engagement Manager at West PACE, 760-280-2236.