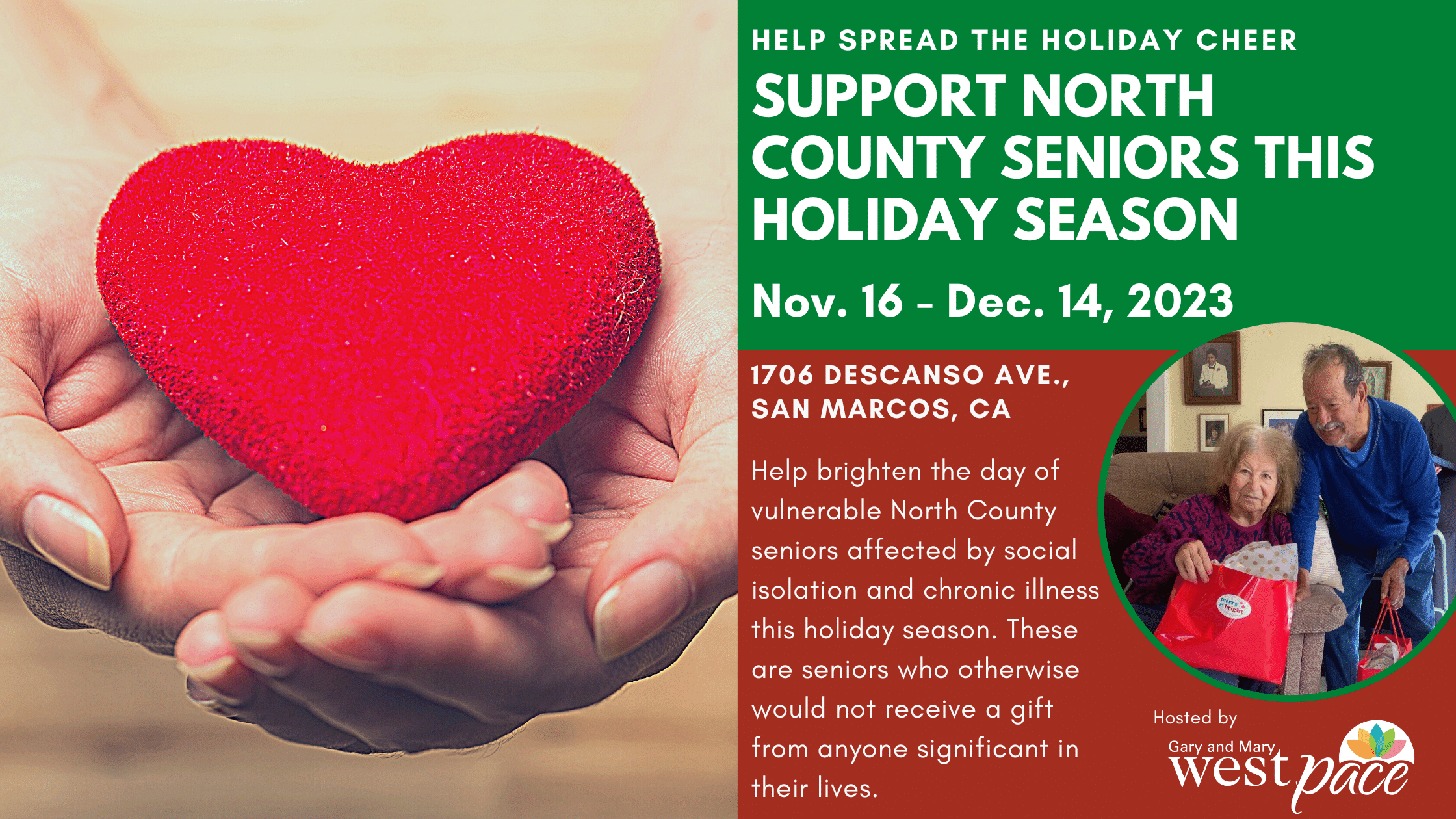 Beginning Nov. 16, the nonprofit Gary and Mary West Program of All-Inclusive Care for the Elderly (PACE) will host its annual holiday collection campaign called "Everyday Necessities Drive for North San Diego County Seniors" at its San Marcos day center. This year, organizers seek donations of new items including blankets, hygiene products, and gardening supplies as well as financial support for the West PACE Community Care Fund to help vulnerable seniors in North County during the holiday season and into 2024.
How the community can help the "Everyday Necessities Drive"
West PACE hopes to collect 375 new blankets that they can gift to North San Diego County seniors with chronic care needs. These older adults rely on West PACE and community partners for high-quality, comprehensive, coordinated healthcare and social services that help them successfully age in place rather than in a nursing home.
Beginning Nov. 16, the community can drop off new, unused blankets at the West PACE day center, located at 1706 Descanso Avenue in San Marcos, CA, during normal business hours (Monday through Friday, from 8 a.m. to 4:30 p.m.). Donations will be accepted through Dec. 14, 2023.
The team at West PACE also created an Amazon Wish List with recommended blanket selections and hygiene products for community members who wish to participate but need help delivering their donations in person. New to the wishlist this year are garden items for the West PACE Therapeutic Garden, which was installed last year to help participants with dexterity and to provide a mental health outlet.
"The 'Everyday Necessities Drive for North San Diego County Seniors' is more than just a holiday collection campaign for West PACE; it's a heartfelt opportunity for our community to come together and make a real difference in the lives of vulnerable seniors," said Rena Smith, executive director, West PACE. "With the support of our generous community, we aim to provide comfort, care, and joy to older adults who rely on us and our partners for essential services. We are excited to collect 375 new blankets, essential hygiene products, and gardening supplies, and we invite everyone to contribute, either by dropping off donations at our center or using our Amazon Wish List."
Additionally, West PACE set a fundraising goal of $2,500 in financial donations to its Community Care Fund. Funds raised will be used to purchase clothing, bed linens, mattresses, pet supplies and food, kitchen utensils, small furniture items, transportation subsidies, and other meaningful and intentional gifts for seniors. These items are carefully selected based on the needs observed by trained social workers and healthcare professionals who have built trusting relationships with seniors receiving support and services from West PACE and other organizations.
"Your financial support for the West PACE Community Care Fund will help us bring smiles and warmth to the hearts of seniors in North County throughout the holiday season and into 2024," Smith continued. "Together, we can truly make a meaningful impact."
Spreading holiday cheer and honoring caregivers
While November marks the beginning of the annual "Everyday Necessities Drive," West PACE also celebrates National Caregiver Month, a time dedicated to acknowledging the contributions, sacrifices, and support provided by millions of individuals who devote themselves to caring for their loved ones or who work as professional caregivers. West PACE has planned several events to both commemorate National Caregiver Month and share the spirit of giving ahead of the "Everyday Necessities Drive for North County Seniors." The organization will host a Tailgate Kickoff event on Thursday, Nov. 30 with the Oasis Home Advisors group. Finally, West PACE will host "Reindeer Games" for participants on Dec. 11 and 12, when they will enjoy rousing holiday-themed games at the day center that are sure to delight.
Staying warm in winter months is a concern for vulnerable seniors
West PACE has supported several program participants with donations of blankets and other supplies. One example is the story of a participant who lived in a rural North San Diego County area without access to running water in a home with several broken windows and limited electricity. When the participant developed pneumonia during a hospitalization, the West PACE team grew concerned about his health and safety when he returned home. Donation funds were used to purchase warm jackets, a mattress, bedding, and several blankets to help keep him warm and comfortable.
Donations received through the "Everyday Necessities Drive for North San Diego County Seniors" will be distributed to senior recipients from mid-December through January 2024.
Community partners needed for holiday drive
West PACE shares gratitude for the following North San Diego County businesses and groups that are supporting this year's holiday drive effort: : Edward Jones in Escondido; Oasis Senior Advisors®; Dr. Bronner's; and West Health. West PACE seeks additional North County community partners to support the "Everyday Necessities Drive." If you would like to partner with West PACE on this event, please contact Mary Jurgensen, community engagement director at West PACE, at (760) 280-2236. Holiday drive partners receive recognition and the team at West PACE will also pick up any donations collected at their sites.
What is PACE and how does it help seniors?
A Program of All-inclusive Care for the Elderly, or PACE, is a model of person-centered care that has been shown to reduce rates of emergency room visits, unnecessary hospital admissions, long-term nursing home placements, and reduce the cost of care and the strain on family caregivers. Over 90 percent of PACE participants are able to remain in their homes and communities successfully, many live longer, are more socially engaged, and have a better quality of life than those in nursing homes or other institutional settings.
West PACE provides a wide range of services for older adults, including adult day programs, medical care, social services, dentistry, and home care, as well as physical, occupational, and speech therapy. Transportation to and from the center and outside medical appointments is provided, as well as social activities, meals, pharmacy, long-term services and supports, and caregiver training and support groups. All services are managed by an interdisciplinary care team to ensure the coordination of care and clear communication with participants and their families.
Medicare and Medi-Cal reimburse PACE for care. If participants are enrolled in Medicare and Medi-Cal, they will pay nothing, or they will pay their Medi-Cal "share of cost." The program also accepts people enrolled only in Medi-Cal and people who want to pay privately. There are thousands of seniors in the area who may be eligible for enrollment in West PACE. Additionally, the asset limit for Medi-Cal programs for people aged 65 and older increased in July 2022, so if you have applied before and been denied, consider reapplying. Moreover, beginning January 1, 2024, income-eligible people will be able to access Medi-Cal's Aged and Disabled program, Medicare Savings programs, and Long-Term Care programs, regardless of assets. California is the first state in the nation to eliminate its asset test for all Medi-Cal programs. To apply or learn more about eligibility, contact West PACE at (760) 280-2230.
About Gary and Mary West PACE 
Established with a grant from the Gary and Mary West Foundation, Gary and Mary West PACE in San Marcos provides compassionate, comprehensive healthcare and social services for older adults over 55 years old who live in North San Diego County and have multiple chronic conditions that qualify them to a skilled nursing level of care. Through a broad range of services, from medical care to social activities to transportation, West PACE helps older adults live as independently as possible in their own homes, avoiding the need for institutional care.
Importantly, West PACE provides critical relief for family caregivers of older adults. West PACE staff work with senior participants both in their homes and on-site at the West PACE facility in San Marcos. All staff from doctors to physical and occupational therapists, mental health counselors, recreation specialists, certified nursing assistants (CNAs), and more, are all highly trained to deliver the best care for senior participants. 
Those who are Dually Eligible for Medicare and MediCal, or for MediCal only, will not be charged co-payments for services. Others who wish to pay privately may also enroll in the program. To apply or learn more about eligibility, contact Gary and Mary West PACE at (760) 280-2230 or visit their website at www.westpace.org.
Thank you to our partners