In a display of collaboration and commitment to care for older adults, Gary and Mary West PACE made waves at the 2023 NPA Annual Conference, the National PACE Association's premier educational event.
The conference, held mid-September in Miami, Fla., provided an ideal platform for West PACE to showcase its dedication to advancing the Program of All-Inclusive Care for the Elderly (PACE) model. The conference featured symposiums on a range of topics relevant to PACE, followed by educational sessions.
Several West PACE team members—including Executive Director Rena Smith, Quality Improvement and Compliance Director Kannamma Kannan, Medical Director Dr. Neha Sampath, and Registered Nurse Preceptor Hannah Taylor—were onsite to present on key PACE-related topics:
Building the Village: Creating Strong and Seamless Care Continuum Through Various Housing Initiatives and Partnerships
Surviving and Thriving Through Three Tears of CMS Audits: A Behind-the-Scenes Look at Successful Preparation
Translating Goals and Wishes Into Care Plans
All Aboard the Quality Train: Successful Onboarding to Establish a Culture of Quality and Compliance
Integrating Siloed Data and Uncovering Insights in PACE Programs
Using Process Improvement Methodology and a Layered Strategy to Reduce High-Cost Utilization Among PACE Participants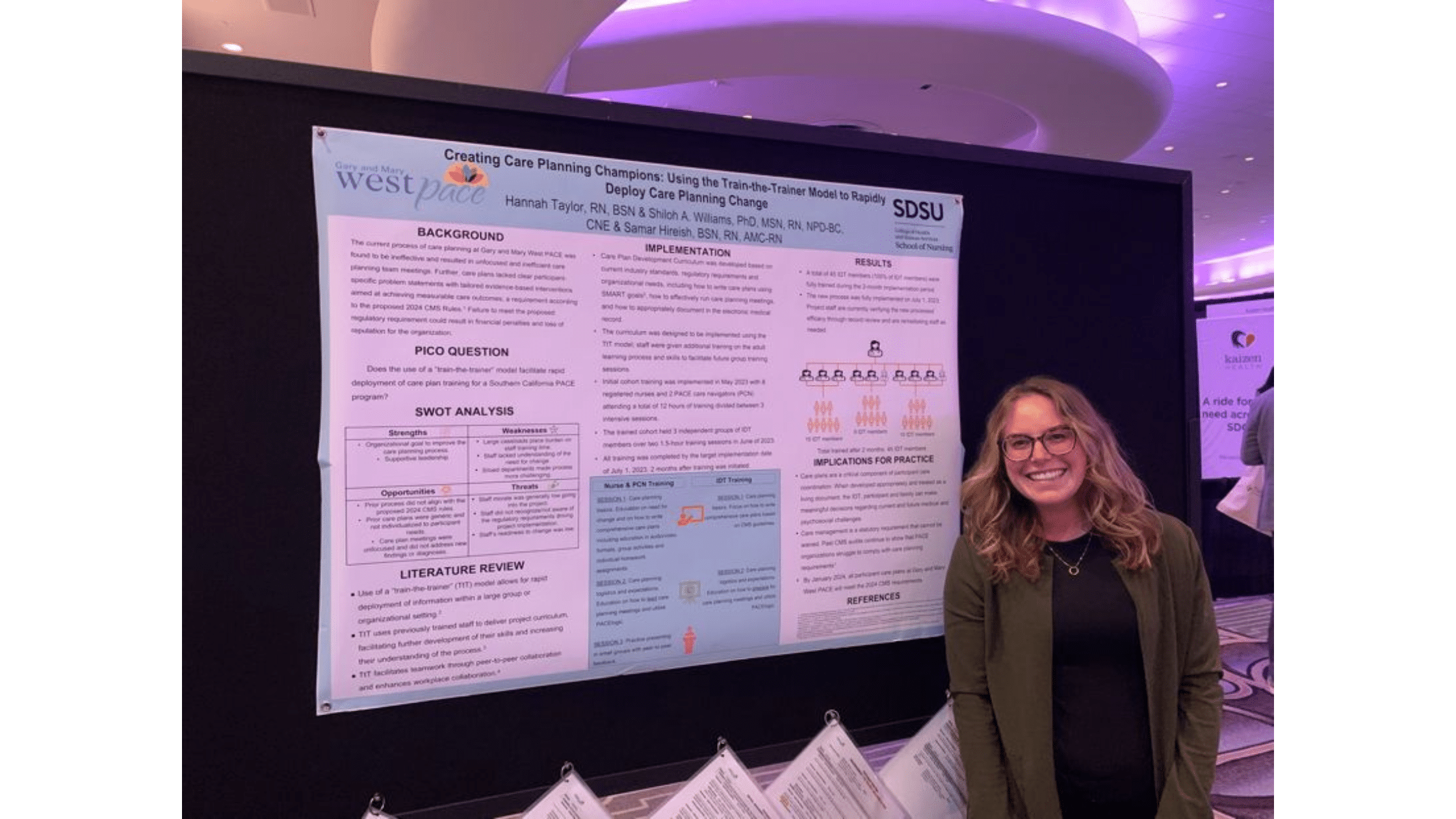 Pictured above: Hannah Taylor, Registered Nurse Preceptor from Gary and Mary West PACE, at 2023 National PACE Association Annual Conference
"Gary and Mary West PACE is honored to have been a participant in the 2023 National PACE Association Conference," said West PACE Executive Director Rena Smith. "Through our engagement, we had a wonderful opportunity to lead dynamic discussions that showcased our commitment to innovation and excellence in elder care. We are excited about the transformative impact of these discussions and look forward to continuing our journey towards enhancing the well-being of the older adults in North County we serve."
"The whole conference was excellent, especially the educational sessions and networking events," CalPACE CEO Val Sheehan shared on LinkedIn. She continued, "I am so proud of and impressed by our CalPACE board members and California PACE executives including Maria E. Zamora, MBA from Center for Elders'​ Independence, Rena Smith and Ofra Paz from Gary and Mary West PACE, Dr. Matt Patterson from WelbeHealth, and Grace Li from On Lok who showcased their expertise, innovation, and leadership at this year's conference."
West PACE is grateful for the opportunities to present and share our experiences at the 2023 NPA Annual Conference and also to learn from others within the national PACE community.
Interested in working with West PACE? We're looking for passionate health care providers who want to be part of a team dedicated to enabling seniors to live in their communities as independently as possible by providing compassionate, comprehensive and supportive health care. Check out our current job openings here and follow us on LinkedIn.