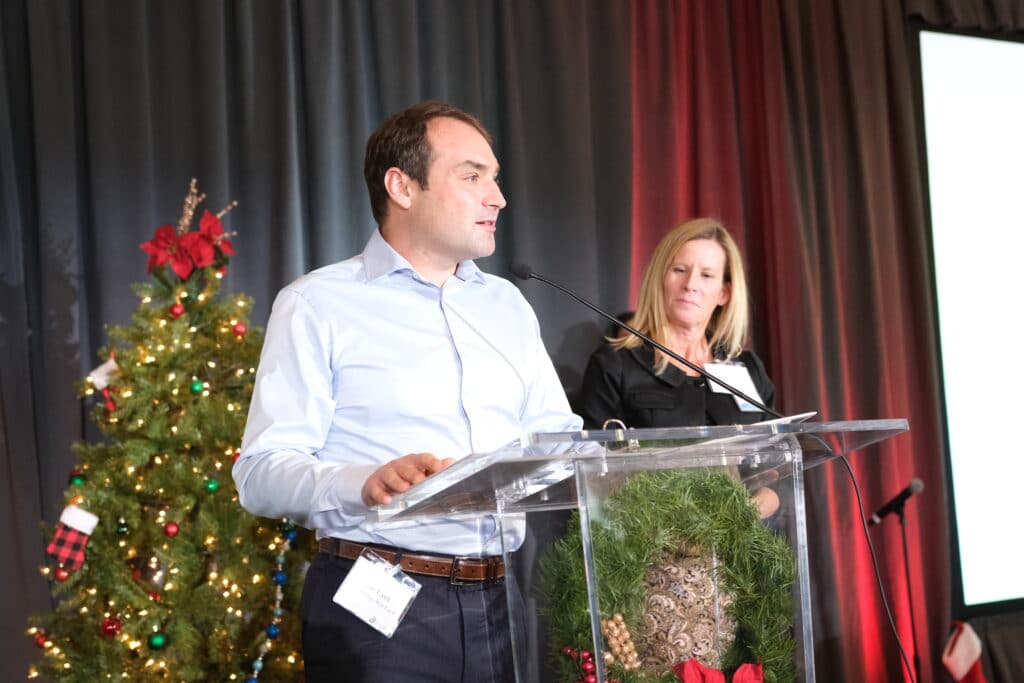 West PACE Wins Excellence Award
Every year, more than 300 North County leaders convene to celebrate the San Diego North Economic Development Council (SDNEDC) Excellence in North County Economic Development Awards. This award spotlights new businesses relocating in North County, businesses with significant expansions of its existing businesses, new developments and investments in the community, and policies and activities that make for an economically competitive and vibrant region. In December 2021, Gary and Mary West PACE was recognized as an innovative, nationwide model of person-centered care for vulnerable seniors with chronic care needs offering high-quality, comprehensive, and coordinated health care, social services, and support to enable them to successfully age in place.
More than 90 percent of our PACE participants successfully remain in their homes and communities. They are living longer, more socially engaged, and enjoying a better quality of life than those in nursing homes or other institutional settings.
In addition to our services, West PACE stands out because of how we continue to help adult family caregivers and their loved ones get the respite and support they need. Prior to and during the pandemic, adult children caring for their elderly loved ones found it difficult to balance work and their caregiving duties. This challenge can cause increased absenteeism at work, and force employees into the difficult situation of having to choose whether they should leave their job and stay at home to care for aging loved ones, all at the expense of their livelihood. Offering employees and small business owners a more effective option than taking a prolonged leave of absence, closing one's business, or missing days of work, and helps them better balance their day-to-day responsibilities.
One Caregiver's Story
A local automotive repair shop owner faced these exact challenges. As an only child, the small business owner had the responsibility to take care of his aging mother. He could not attend to her increasing care needs and duties at work at the same time, which put him in the difficult position of either losing his business or having to figure out a permanent (and pricey) solution for his mom. This is where West PACE provided a solution in offering caregiving support, coordination of his mom's medical care, and caregiving while he was at work, thereby providing him with the peace of mind he needed, while supporting his mom's independence at home. To help level the playing field for North County employees and small business owners, West PACE provides respite and financial relief for struggling caregivers, giving them the opportunity to continue or return to work, and relieve their daily stress so they can still work and contribute to the economy.
Housing Supports for North County Seniors
Also, when deemed pertinent to maintaining the health, safety, and independence of a participant at home, specifically a residence that is unsightly or in disrepair, and may even have neighborhood code enforcement violations, West PACE can step in to help rectify those challenges by supporting the senior through mediation, organization, and decluttering with the help of contracted experts. From installing ADA wheelchair ramps, and stairways to ensure safe entry and exit of the home to minor repairs of windows, AC units for adequate cooling and bathroom modifications to reduce risk of falls and injury in the home.
The West PACE Team has even connected with the City of San Marcos housing program to get a better understanding of tenant law, resident rights, and homeowner rights. Being able to modify and improve home conditions for select seniors, as well as make them aesthetically pleasing for the community, helps improve the senior's mental health and wellbeing. Also, providing the means to maintain housing helps stabilize the population for people without housing in the North County community by keeping families and individuals off the street, and in their own homes. State, county, and nationwide, PACE programs can be a moderating force in helping create a solution for people at risk for losing homes as they try to balance managing their health care at the expense of affording rent, medication, and often even food each month.
Community Partnerships and Job Openings
Another way West PACE contributes to the North San Diego County economy is by creating job opportunities through its collaborations with higher learning institutions, including Cal State San Marcos, the University of St. Augustine for Health Sciences, Palomar College, and PIMA Medical Institute. The nonprofit engages nursing institutions within a five-block radius of the center to provide a hub for nursing students to gain on-the-job training and internship experience. The center considers itself a landing pad for nursing students and helps connect them with local allied health professionals, certified nursing assistants, and health techs to jumpstart their careers.
For West PACE, supporting the North County business community/economy means supporting the people who work in it. If employers must continue to constantly rehire, this can cause employee fatigue and result in a high turnover rate for businesses. Like childcare, West PACE is older adult care and gives caregivers and adult children the opportunity to still go to work, knowing their loved ones are safe and taken care of.
The West PACE center opened its doors in October 2019 and started out with only 18 staff members. During the pandemic from August 2020 to 2021, West PACE has hired an additional 57 staff members for a total of 63 employees and continues to hire additional caregivers and clinical and administrative staff monthly.
In December 2020, we created the "Everyday Necessities Drive for North County Seniors." The public, including San Diego County businesses, community groups, and individuals were encouraged to donate new and unused toiletries, games, puzzles, socks, masks, other care items, and small gift items that were later assembled into over 200 holiday bundles for local seniors with chronic care needs who rely on West PACE for high-quality, comprehensive, and coordinated health care and social services which help them successfully age in place rather than a nursing home. As result a of the success, we have decided to continue the tradition as an annual campaign during the holidays to put smiles on the seniors' faces.
Pandemic created challenges for seniors, West PACE answered the call
It's no surprise that California's cost of living has created many challenges for residents, one of them being people without housing. This is no different for North County.
During the pandemic, the gap started to widen even further for those actively employed and our seniors. The risk of seniors going without food, housing, and the ability to care for their physical and mental health was increasing. West PACE has been a key partner to address these issues.
In February 2021, we hosted a COVID-19 vaccination site designed specifically for the community's most vulnerable seniors in North County. From the get-go, the appointment-only site started vaccinating approximately 500 or more seniors per day with a supervising physician who specializes in geriatric care on-site. The event was made possible through the collaboration of the Gary and Mary West Foundation, West PACE, the Gary and Mary West Senior Dental Center, West Health, the County of San Diego, City of San Marcos and 211 San Diego.
By establishing a vaccination pod, we supported hundreds of seniors, especially those who were experiencing challenges navigating online appointment systems or who did not have the support of a family member or caregiver.
During the beginning of the pandemic, seniors were getting left behind and forgotten, suffering from not only illnesses but also social isolation. The West PACE community takes care of its elders and provides North County seniors the opportunity to live, work and retire in their own homes.
Thank you to the San Diego North Economic Development Council for their recognition of our team this year.