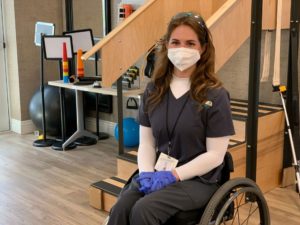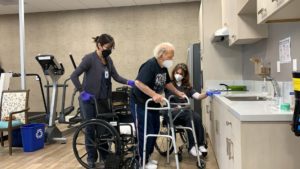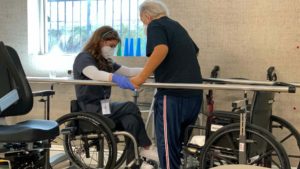 April is Occupational Therapy Month, and we're recognizing the amazing work of OT professionals like our own Ally A., who have worked around additional challenges presented by the COVID-19 pandemic to deliver exceptional care to our participants. Here is her story.
What inspired you to become an Occupational Therapist?
"When I was 17 years old, I was a high school junior and competitive soccer player with plans to study nursing when an accident left me paralyzed below the waist. I knew I wanted to continue my career path in health care, and this was confirmed after seeing the work of my own Occupational and Physical Therapists and how I developed cool relationship with them. My own personal experience has helped me tremendously. As an OT, I can relate to people a lot more and I find that I can meet them where they are at. I know how much that I had to adapt to my situation, and I think this helps me get on a different level with our participants, and it helps to strengthen our relationships during the therapy process."
Tell us about what a regular day at West PACE looks like for you.
"I see participants at our PACE center in San Marcos, and also visit homes when it is safe to do so to conduct assessments and provide therapy. When I perform intake, I find out what a participant's goals are and how safe they are feeling at home, specifically in their bathroom or in their kitchen. I make sure my assessments are patient-centered. I find out what they can and cannot do, and then we come up with a plan to determine what they need to learn and also what they need to continue to do so they can regain and remain independent. On a given day, I lead participants through balance exercises, we take walks, and we also work on fine motor skills that allow them to bathe and eat independently, get dressed, and even brush their teeth.
We also determine if any home modifications are needed. We have a great partner with a company called 101 Mobility here in San Diego County that helps us take care of installation and modifications that give our participants a greater sense of confidence and independence."
How has the pandemic impacted the way you deliver OT services and interact with participants?
"At the beginning of the pandemic, we relied on telehealth to stay in communication with our participants and stay abreast of their conditions. Since late summer, we have been bringing in more participants to the center for their session. I think our participants would say that it has been working well so far. But I cannot wait for our PACE center to re-open more fully this Spring and Summer!"
What was your motivation to join the West PACE staff and work with seniors?
"I am originally from the East Coast, and I was so tired of the snow and cold weather. I found out through research (thanks, Google!) that San Diego was one of the best regions to live in. So, I bought a one-way airplane ticket and came out west a few years ago.
I love working at West PACE because we take a full 360-degree view of how a participant functions. I feel empowered to make recommendations of equipment, devices and other important items that are truly medically necessary. Our care has expedited many things, and we can get them what they need. I recall one example of a participant who lost her husband to COVID and she moved into her daughter's house. When I arrived at her initial home assessment, I was able to see that the current set up was not conducive to a wheelchair. 101 Mobility installed much needed modifications including a chair lift, grab bars, and other advice for removing furniture, rugs, etc. We continued therapeutic interventions that go into taking a shower, instead of the caregiver doing all of the work. She tells us that she feels so much better, and she can now shower on her own.
Another example is when we installed a ramp at a home of a participant. This allowed him to leave his home for the first time in awhile and now he comes to see me weekly. Previously, getting out of the house was a constant fear of his. These aren't million-dollar home improvements, but the modifications, along with consistent OT and PT sessions, are life-changing!"
How do you keep PACE participants motivated to continue their OT exercises?
"I always try to tie everything we work on together to a participant's goals and 'real life' activities. I am very honest with our participants, and because of my experience I remind them that I am not a 100% everyday as well. I remind them of where they are at, and challenge them: What are you going to do with what you have right now?" Coming from me, I think it resonates more."
Do you think you or a loved one could benefit from occupational therapy? Please connect with us today.