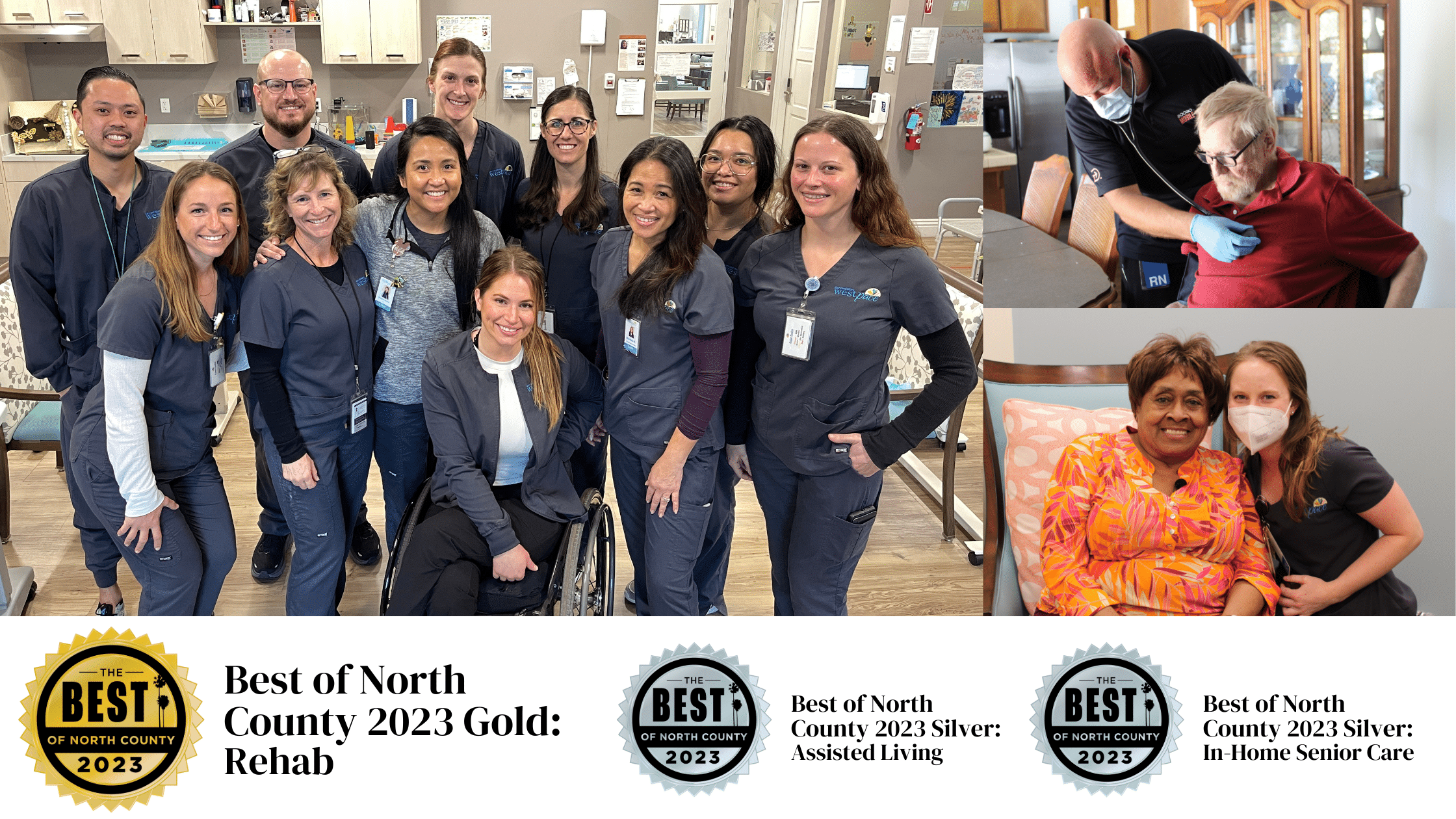 The dedicated team at Gary and Mary West PACE in San Marcos brought home coveted recognition in The Coast News Group's Best of North County 2023 Awards, a voter-based contest focused on highlighting the best businesses, companies, groups, locations, items and services in North San Diego County.
The Best of North County Award nominations are submitted by community members, and voting takes place online. The "Best of North County" seal is a recognized stamp of approval from area residents—one that the West PACE team is honored to have earned!
We are proud to share West PACE's recognition as a Gold Winner in the Rehab category of the Best of North County 2023 Awards. The team also took home Silver awards in the categories of In-Home Senior Care and Assisted Living.
The aim of the senior rehabilitation services we offer is to preserve or regain independence for seniors through various therapies, including physical, occupational and speech therapy. Our rehab team works closely with West PACE participants to help them achieve their individual goals and become more physically engaged for improved quality of life. Our team ensures strength and mobility are improved through activities such as yoga, tai chi, stretching and more.
"We are so honored to have the support and recognition of the North San Diego County community through the Best of North County Awards, " said Rena Smith, West PACE executive director. "I get to see the dedication of our team firsthand, but a lot of that selfless work goes unseen. I'm proud to work alongside such a caring and devoted group of people. They are the heartbeat of West PACE and the reason for these awards."
If you or someone you know is having increased difficulty performing activities of daily living due to increased pain, weakness, decreased coordination, impaired vision, cognition or an increased number of falls, it might warrant an occupational therapy evaluation.
For West PACE occupational therapists, the work is about more than occupational therapy (or OT for short) alone. "As occupational therapists, we problem-solve why certain ailments may occur, then develop a plan of care to best cope with the ailment, while allowing participants to still continue in meaningful activities," says Michelle, West PACE occupational therapist. "I also enjoy listening to our participants' stories and how life experiences shape them into the individual they are today."
Ally, another West PACE occupational therapist, says, "On a given day, I lead participants through balance exercises, we take walks, and we also work on fine motor skills that allow them to bathe and eat independently, get dressed, and even brush their teeth. We also determine if any home modifications are needed."
West PACE participants utilizing occupational therapy have diverse aspirations, ranging from being able to complete basic tasks like cooking independently, to more challenging tasks like surfing.
"Following my stroke caused by COVID-19, I started working with the West PACE rehab team to regain my balance and general strength. Over the past two years, I have been able to strengthen my arm and leg muscles, which has allowed me to pursue my passion for surfing and the water," said Shawn, a West PACE participant. "Currently, I am focused on enhancing my hand function. Once a week, I visit the beach with a friend and practice surfing on a large board. Using my good arm to paddle and my weaker arm to stabilize the board, I practice pushing up to stand. Furthermore, my friends have been supportive by helping me add zippers to my wetsuit, which makes it easier for me to put on and take off."
On behalf of the Gary and Mary West PACE team, thank you for nominating and voting for us in the Best of North County 2023 Awards. We are grateful to serve seniors in North San Diego County.
At West PACE, we understand that each person's journey is unique, and we are here to support you every step of the way. Whether you are recovering from an injury or illness, managing a chronic condition, or simply looking to improve your overall health and well-being, our team is here to help you achieve your goals and live your best life. Call 760-280-2230 or email us today to learn more about West PACE and to schedule a tour.